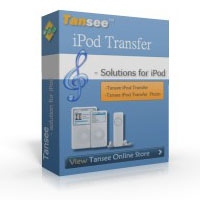 Tansee iPod Transfer -Solution for iPod! 
An ultimate application for transferring songs and videos from your iPod to a Windows based PC, you can search songs or videos by title, artist, album, genre…
 Tansee iPod Transfer is a sound of blessing for frustrated Apple's iTune users who can't copy music files from iPod to pc desktop or laptop since iTune blocks iPod-to-computer song transfer.
With Tansee iPod Transfer, iPod users can transfer iPod Songs to PC easily. Tansee iPod Transfer utilizes iPod's internal database to display your iPod's files instantly.
Tansee iPod Transfer is fully compatible with all existing iPods including iPod, iPod Photo, iPod mini, iPod shuffle, iPod nano and iPod video.