There are many reasons you may need to transfer files from one iPod to another iPod. Maybe you:
Purchased a new iPod and want to move your existing iTunes collection to it.
You want want to sync files between all your iPods
You want to share music and files between multiple iPods in your household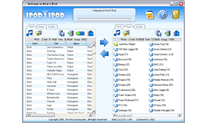 There are numerous reasons you may need to do this. What you will need to do is get some software to convert iPod to iPod. One example is iPod2iPod.
This software will allow you to connect multiple iPods, move files, playlists, albums, genres, video and more between them. It's a must for any multi-iPod owner.
It supports all models of iPod including the new iPod Touch.