With so many new iPods entering the marketplace all the time, chances are you have more than one in your house. Maybe they all belong to you or maybe you have one, your spouse has one and the kids each have one.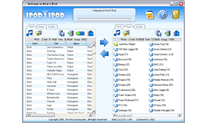 If this is the case, you may be looking for software to share music, photos, videos and playlists among your iPods. The iPod2iPod software is just what you need. With this awesome software, you can:
Connect Multiple iPods
Drag and Drop Playlists, Music, Videos & More!
Move entires albums, artists or genres!
Make shared playlists among more than one iPod
Quickly eliminate duplicate songs or files!
Setup automatic backups for peace of mind
The iPod2iPod software is perfect for any family of iPod owners. You will love how easy this software is to use and how it maximizes the space and performance of your iPods!